Estes can accommodate virtually any freight requirement – and we excel at providing custom solutions to meet shipping needs of all kinds:
Crating and Packaging
We offer both standard and custom packing, as well as packaging and crating solutions that can reduce potential damage to your freight shipments.
Exhibit Services
Estes delivers a single-source solution for shipping exhibit and trade show materials. Features include a 24/7 dedicated call center, proactive shipment monitoring, and in-transit adjustments. On-site show management includes unpacking, setup, electrical/audio-visual support, and repacking coordination before, during, and after the event.
Government
Estes is an approved carrier for the Department of Defense, FEMA, and the General Services Administration (GSA). We're also one of the first major LTL carriers in the nation to meet the Transportation Security Administration (TSA) safety requirements for delivering freight to outbound commercial or cargo aircraft.
Hazmat and Special Permits
Estes can handle the permits required for shipping extra heavy, tall, or wide freight, as well as those needed for special routes, hazardous materials, and dangerous goods.
Prohibitive Freight
When unusual size, weight, or other characteristics prevent your freight from being shipped by normal means, you can count on Estes to handle it with skill and care.
Protection From Freezing (PFF)
When temperature matters, our PFF service can protect your freight shipment from the cold between mid-October and mid-April; request this option when filling out your online BOL in My Estes or write, "Protect From Freezing," on your BOL.
Quality Inspections
Estes offers on-site packaging and loading inspections to ensure that your freight is optimally protected during shipping. If we detect a flaw in protection, we can correct it to help prevent future damage.
Secured Dividers
Do you have a very important volume shipment, or one that's prone to damage or shortage? With our Secured Divider service, your freight receives a higher level of protection because it's loaded in the trailer's nose and stays separate from all other cargo until it's reached the destination.
Security/Escort Services (Armed or Unarmed)
If your freight shipment requires security, we can provide ride-along escorts or separate escort vehicles, manned by security-cleared, licensed personnel who maintain constant surveillance of the cargo vehicle.
Self-Service Moving
Through Estes SureMove, we can help you move for less. As an alternative to full-service moving, Estes places a 28-foot trailer with a ramp outside your home or office. We give you three days to load and then we drive the trailer to your new home or office. After giving you three more days to unload, we'll pick up the trailer.
Special Equipment
Estes has the equipment to accommodate a wide range of freight shipping requirements: temperature-controlled, soft-sided, air ride, flatbed, and Conestoga trailers (flatbeds with sliding tarp systems), as well as trucks with forklifts. We also offer intermodal transport.
Temporary Trailer Storage
We can temporarily store trailers (ours or yours) on a lot or in a warehouse, then deliver your freight shipment to its final destination at a specified time.
Temporary Warehousing
If you need a temporary freight storage solution, Estes has partnered with Warehowz, an on-demand, cloud-based warehousing platform that can help you find flexible, affordable warehouse space without long-term commitments.
Ticketing/Labeling
When shipping your retail goods or other merchandise requires pre-ticketing, re-ticketing, or ticket removal, we've got you covered.
White Glove (Final Mile Service)
We can place your residential or non-dock commercial shipment in the room or area of your choice, move it up one flight of stairs, and remove packaging debris when requested.
Storage When and Where You Need It
Warehowz offers 1,600 warehouses and can provide a space in as little as 24 hours.
Take Your Supply Chain To The Next Level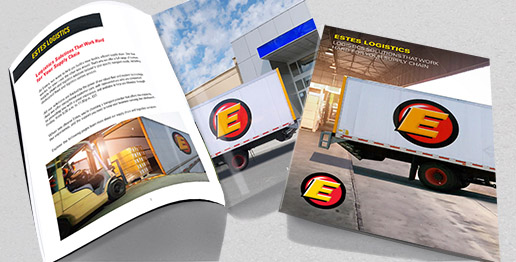 Learn more about our full range of custom supply chain and logistics solutions.