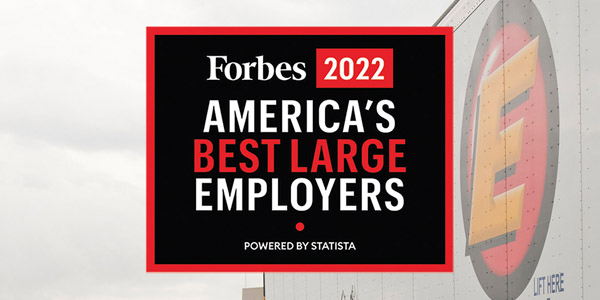 Forbes has once again named Estes one of America's Best Large Employers. The 2022 list, which recognizes 500 of the top employers in the country, was based upon an independent survey of over 60,000 employees nationwide. Survey participants all worked for companies with at least 1,000 people in their U.S. locations, and answered questions about working conditions, development opportunities, compensation, and how likely they'd be to recommend their employer. This is Estes' third time making the list in the last five years.
"We are so honored to once again receive this recognition from Forbes," said Estes President and CEO Rob Estes. "Our company is fueled by the hard work and dedication of our more than 22,000 fiercely committed employees, and we're so proud to know that they see Estes as a company that's willing to go the extra mile for them."
Estes ranked 397th overall, and 13th in the list's Transportation and Logistics category.
Click here to see the full list.
About Estes
Estes is the largest, privately-owned freight carrier in North America. As an asset-based transportation provider with a global footprint, Estes always goes the extra mile to deliver reliable freight solutions and exceptional service that keep its customers coming back. Ethical and honest, with over 90-years of freight shipping expertise, Estes has worked through the decades to build a robust fleet and vast network of over 10,000 doors and 265 terminals nationwide. And the company's comprehensive transportation solutions are backed by its continued investment in technology resources, as well as the support of more than 22,000 fiercely committed employees. Estes offers comprehensive freight shipping solutions, including Less Than Truckload (LTL), Volume and Truckload, Time Critical Guaranteed, Custom Shipping and Logistics, and Final Mile.