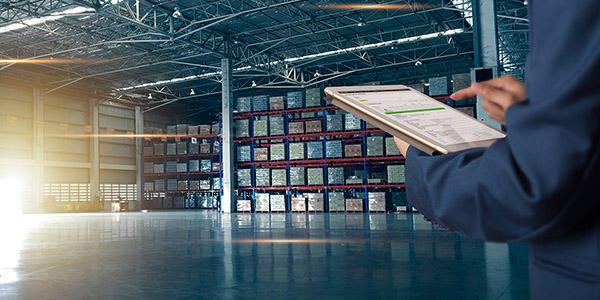 Estes has been named the winner of the SCV Innovation of The Year award for its industry-leading Pickup Visibility application by SupplyTech Breakthrough, a leading independent market intelligence organization. SupplyTech Breakthrough conducts its annual awards program by evaluating and recognizing standout technology companies, products, and services in the supply chain technology and logistics industry. This year's SupplyTech Breakthrough Awards program drew more than 1,400 nominations from over 15 different countries.
Estes' Pickup Visibility application earned the company an Innovation of the Year award for making Estes the first carrier in the industry to provide shippers with a detailed line of sight to their freight from the time they schedule their pickup through delivery. The application's intuitive, user-friendly interface features an easy-to-use visual progress bar that displays important pickup milestones in real time, including pickup exceptions and real-time "Stops Away" updates as well as an Estimated Time of Pickup.
"In featuring the industry's most comprehensive pickup data, Estes is putting all the real-time information shippers need right at their fingertips and improving the entire shipping experience," said Bryan Vaughn, Managing Director of SupplyTech Breakthrough Awards. "By equipping shippers with the industry's most comprehensive, real-time pickup data through innovative new technology, Estes Pickup Visibility makes it easier for shippers to manage their freight every step of the way."
"We're honored to accept the SCV Innovation of the Year award from SupplyTech Breakthrough, said Carrie Johnstone, Estes Vice President of Customer Experience and Innovation. "Because most freight transportation issues begin at pickup, we wanted to bring peace of mind to customers during this most critical stage of the freight shipping process, and we couldn't be prouder of the application's success."
About Estes
Estes is the largest, privately owned freight carrier in North America. As an asset-based transportation provider with a global footprint, Estes always goes the extra mile to deliver reliable freight solutions and exceptional service that keep its customers coming back. Ethical and honest, with nearly a century of freight shipping expertise, Estes has worked through the decades to build a robust fleet and vast network of over 10,000 doors and 280 terminals. And the company's comprehensive transportation solutions are backed by its continued investment in technology resources, as well as the support of more than 22,000 fiercely committed employees. Estes offers comprehensive freight shipping solutions, including Less Than Truckload (LTL), Volume LTL and Truckload, Time Critical Guaranteed, Custom Shipping and Logistics, and Final Mile.
About SupplyTech Breakthrough
Part of the Tech Breakthrough organization, a leading global provider of market intelligence and recognition platforms for technology innovation and leadership, the SupplyTech Breakthrough Awards program is devoted to honoring innovation and market disruption in supply chain & logistics technologies, services, companies and products around the world. The annual SupplyTech Breakthrough Awards provide public recognition for the achievements of SupplyTech companies and products in categories including Inventory Management, Supply Chain Visibility, Transportation Management, Material Handling, IoT and Robotics, and more. For more information visit SupplyTechBreakthrough.com.