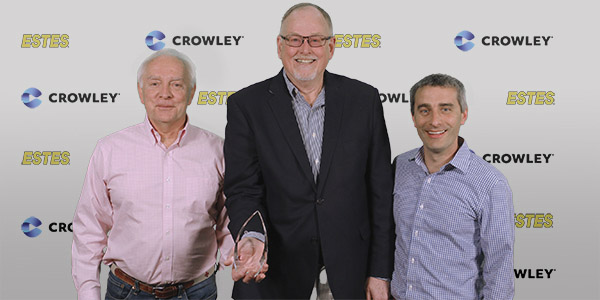 Estes has been recognized as the 2022 LTL Carrier of the Year by logistics, maritime, and energy solutions company, Crowley.
2022 marked the inaugural year of Crowley's Carrier of the Year awards, and recipients were selected based on their overall performance record, reliability, efficiency, and ability to scale based on customer needs. Crowley also took into consideration the carrier's efforts to integrate innovative solutions and sustainable practices.
"We are honored that Crowley has named Estes its inaugural LTL Carrier of the Year," said Estes' President and COO Webb Estes. "We truly value our relationship with Crowley and greatly appreciate this recognition."
About Estes
Estes is the largest, privately owned freight carrier in North America. As an asset-based transportation provider with a global footprint, Estes always goes the extra mile to deliver reliable freight solutions and exceptional service that keep its customers coming back. Ethical and honest, with nearly a century of freight shipping expertise, Estes has worked through the decades to build a robust fleet and vast network of over 10,000 doors and 280 terminals. And the company's comprehensive transportation solutions are backed by its continued investment in technology resources, as well as the support of more than 22,000 fiercely committed employees. Estes offers comprehensive freight shipping solutions, including Less Than Truckload (LTL), Volume LTL and Truckload, Time Critical Guaranteed, Custom Shipping and Logistics, and Final Mile.
About Crowley
Crowley is a privately held, U.S.-owned and -operated maritime, energy and logistics solutions company serving commercial and government sectors with $3.4 billion in annual revenues, over 170 vessels mostly in the Jones Act fleet and approximately 7,000 employees around the world – employing more U.S. mariners than any other company. The Crowley enterprise has invested more than $3.2 billion in maritime transport, which is the backbone of global trade and the global economy. As a global ship owner-operator and services provider with more than 130 years of innovation and a commitment to sustainability, the company serves customers in 36 nations and island territories through five business units: Crowley Logistics, Crowley Shipping, Crowley Government Solutions, Crowley Wind Services and Crowley Fuels. Additional information about Crowley, its business units and subsidiaries can be found at crowley.com.